News: e-IRGSP7 at Horizon Europe projects meeting
e-IRGSP7 participated in the Horizon Europe EOSC projects coordination meeting in Brussels
On 30 September 2022 the EOSC Association (EOSC-A) organised a face-to-face coordination meeting among all EOSC-related Horizon Europe (HE) projects. Fotis Karayannis, e-IRGSP7 project director, gave a short overview of the e-IRGSP7 project, presenting its EOSC related activities supporting the e-Infrastructures Reflection Group (www.e-irg.eu) and an overview of the upcoming e-IRG White Paper 2022 on the coordination among all e-Infrastructure components (network connectivity, middleware, computing, both HTC and HPC and data infrastructures. He also stressed the need for a clear definition and delineation of the EOSC concept and vision for the future (towards both providers and end users) and the need for a customizable and smart personalised dashboard for the end user integrating all services, data, publications, middleware, software and other artefacts from thematic, institutional, national, regional, European or international sources.
The main topic for discussion was a guide for collaboration called "Vademecum" among all EOSC related projects and the EOSC-A, but also broadly covering the Co-Programmed Partnership. The Vademecum covered five main areas namely, Governance, Administration, Communication and Stakeholder Management, Monitoring and Technical Developments. The EOSC Forum cooperation platform was also recently launched and corresponding groups were included in the platform.
The meeting closed with a cocktail at the new EOSC-A offices in Brussels.
For more information please visit Coordination meeting for EOSC-related Horizon Europe projects | EOSC Association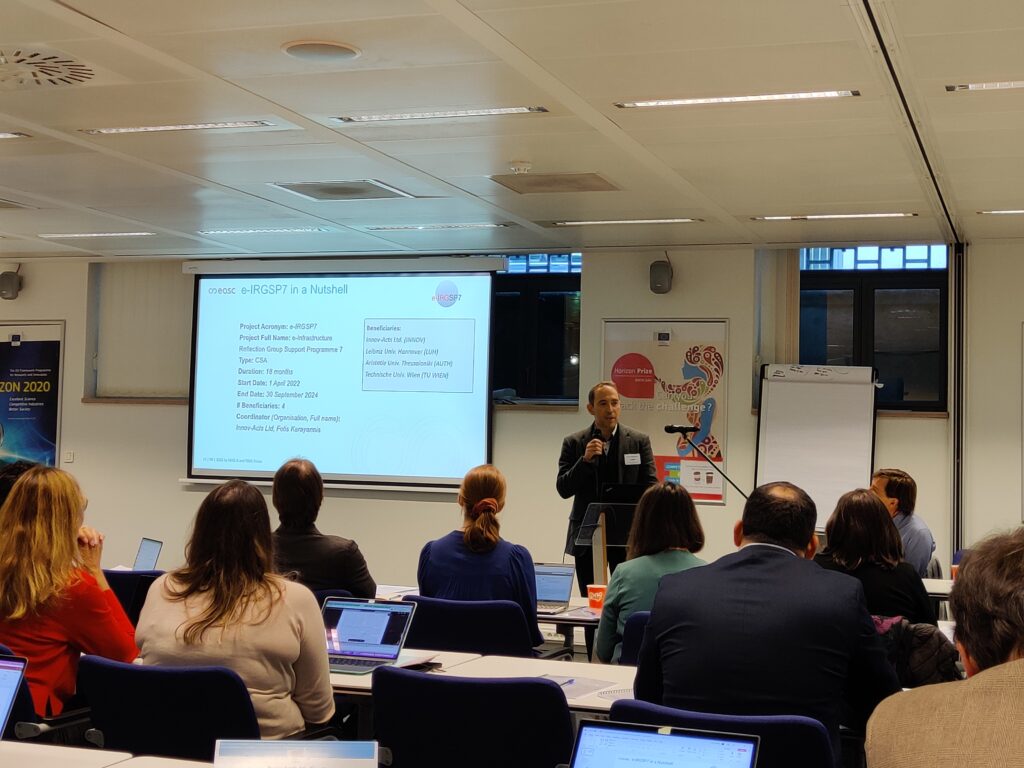 e-IRGSP7 has received funding from the European Union's Horizon Programme call HORIZON-INFRA-2021-DEV-01-05, Grant Agreement number 101057802.